← Back
W. ULRICH (1983, p.321-3) has imagined a hypothetical debate between H.A. SIMON and C.W. CHURCHMAN, two outstanding systemists whose views are at odds on a number of points. ULRICH extracted the elements of this fictitious debate from SIMON's "Science of the Artificial" and from CHURCHMAN's "The Artificiality of Science ". Hereafter, a short summary of this debate (on which thesis ULRICH obtained both supposed contenders' agreement):
For more precise information see reference.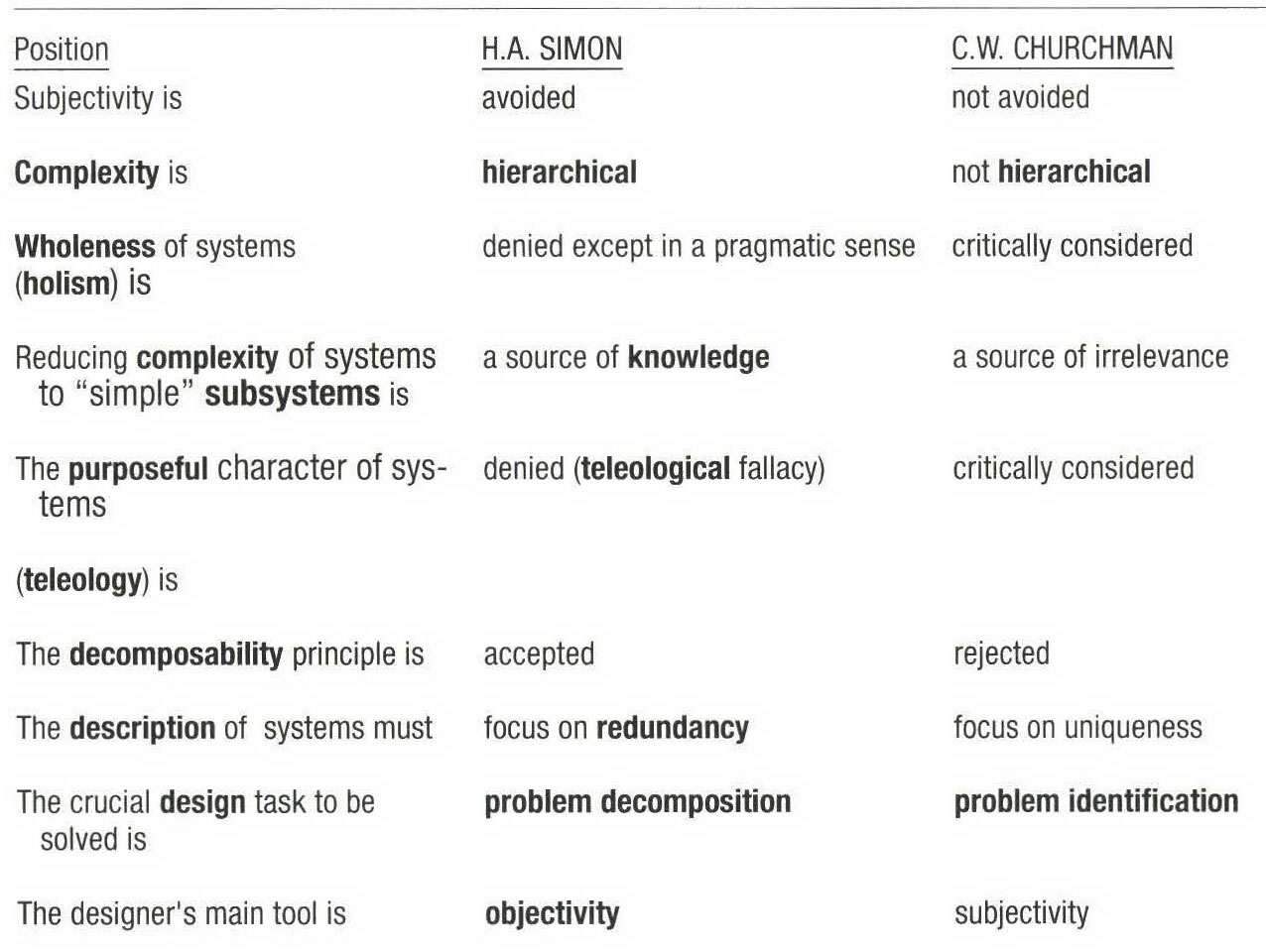 In a more taxonomic way, R. RODRIGUEZ DELGADO describes as follows the different possible meanings of so-called systems philosophy:
"a) A global attempt to understand the Universe and the existence of Man
"b) A partial generalization of knowledge, like Philosophy of History, Philosophy of Science, Philosophy of Art, etc.
c) An Ontology or Theory of the abstract Being
d) An Epistemology or Theory of Science
e) An instrument for reaching a synthesis of scientific knowledge
f) A way of orienting human action in an intelligent way
g) An instrument for the positive transformation of Man and Society" (1993a, p 20).
This author sees in systems philosophy a trend toward the integration of different or even opposed philosophical systems, as elaborated for example by Nicholas of CUSA, THEILHARD de CHARDIN, J. ORTEGA Y GASSET, Karl MARX and E. LASZLO.
Conversely, R. RODRIGUEZ ULLOA speaks of a "Weltanschauung", wherein a philosophy is merely implicit.
Categories
1) General information
2) Methodology or model
3) Epistemology, ontology and semantics
4) Human sciences
5) Discipline oriented
Publisher
Bertalanffy Center for the Study of Systems Science(2020).
To cite this page, please use the following information:
Bertalanffy Center for the Study of Systems Science (2020). Title of the entry. In Charles François (Ed.), International Encyclopedia of Systems and Cybernetics (2). Retrieved from www.systemspedia.org/[full/url]
---
We thank the following partners for making the open access of this volume possible: